Well a couple of weeks back I purchased the biggest and most expensive pieces of fly fishing equipment available that I know of, a campervan. (I suppose a chopper might out do that, but hey whats the chances of getting to own one of those?
)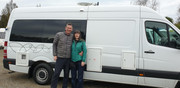 Being about 5 years of talking about it, and saving money towards, but finally iv got one. Picked it up a couple of weeks back. Its a magnificence condition van. We were just lucky enough to be in the right place at the right time. She is a 2010 with only 60,000km on her. 2 previous owners who have hardly used it, so its almost like new.
Got a few little additions to make to her. A diesel heater arrived this week at the house for me to fit, as well as organizing some rod racks. Both me and my wife are looking forward to getting out fishing in her (wife has named the van Queenie) a lot this summer. Going to head south for a week once the rush of opening is over.
Also planning to hit the NI in the new year in her. Big road trip, and im looking forward to a spot of salt water fly fishing up there.